(TW: this post refers directly to suicide and suicidal ideation)
---
Somewhere on the Internet, I read that another young widow had a sister who would text her each day and ask what number day it was. The scale was 1-10. Ten meant her beloved had returned. One meant the safety was off. If the widow texted her sister back and the number was at or below or a 3, her sister would come over after work.
It's important to me to be direct about the reality of the stakes in this 1-10 scale. Factually, the widowed are more likely to die by suicide in the first year than the general population and according to the findings of the 2012 study, "Widowhood and Mortality: A Meta-Analysis and Meta-Regression," widowhood brings with it a 22 percent higher risk of death compared to those who are married - a reality that is most present in 'younger' widows, which is defined as those in their 40s and 50s.
Those widowed in their 30s, such as myself, also die at higher rates than their married peers, but the difference isn't statistically remarkable, not because it isn't remarkable, but rather because there are just too few widowed in this age group to assert measurable differences.
This is all a long way of saying, being widowed young literally puts your life at risk, in more ways than one.
It seems this 'widowhood effect,' simply makes the widowed more susceptible to death, by suicide, yes, but also by other causes - lightening strikes, cardiac events, car crashes, or say - my statistically unlikely health event (though that is for explaining next week).
I don't relate this to fear monger or to doom say, but rather, I state it because this is the kind of person that I am. I like to understand the facts of what I am facing, to know what I am up against, should I choose to go against it.
As such, with this knowledge, though I don't have anyone perform this kind of 1-10 check on me (by choice, not for a lack of the willing), I sometimes check in on myself, by myself.
This week, as I checked in, there were several mornings where I woke up and I found I was a wavering 4.
I hate the wavering 4.
On days like this, I immediately cry and then try to think about something else.
On one particular wavering 4 day this week, I thought about how sometimes, since my widowhood, I joke about Googling 'bridges near me.'
I recalled how the last time I ran this bridges bit by one of my dearest friends, he just shook his head and told me, "Amy, there aren't any bridges in this city high enough for that."
I laughed.
"I know," I said.
But that wasn't enough. That's the thing about the wavering 4. On these days, there are no reprieves — not even dark ones. No bridges high enough.
There is just the dark sea.
And the decision I have to make.
Do I open? Do I close?
I have been told by my therapist that days like the wavering 4 are essential to living, though they feel entirely like a threat to this endeavour. He says when I feel this way, I am to turn into it, go darker, go further, but most importantly, open up.
"Specifically, and ideally," he says, "open up in front of someone else, someone you trust. Cry in front that person. Tell them your agony."
I have difficulty with this. And difficulty is heavily understating it.
Not only do I not want to say aloud my darkest dark, but I don't want to go further into the sea. I want to seal myself off. Close down entirely.
"No one heals in isolation," my therapist tells me. "You have to reach out. You cannot survive this alone."
But on days like a wavering 4, survival does not feel like something I want to do — especially when it means inviting more pain.
I am so tired of making difficult decisions.
"I'm never going to tell someone my pain on days like this," I tell my therapist. "I'm never going to sob in front of them."
"Fine," he allows. "Then open up and write it down."
Sometimes, I'll be honest, I just shut my eyes and the wavering 4 takes me under. But other times, more times this week than not, I try.
I wade into the sea.
I open up my phone and watch a video of him playing piano and singing in his thin, but playful voice, watch the way his hair, unwashed that day, curls at the nape of his neck, see the way his left shoulder tics in time with the beat.
And though it is agony, after that, I watch another video, this time of him jamming on his matte black guitar. O! his slight grin when he hits the tempo pocket just right, O! his almost-laugh of joy.
My chest is seizing.
Still, I animate the Live photo of him where he is turned, talking briefly to me about his nascent facial hair. His eyes are so open, huge and gentle, so entirely devoid of any kind of pretence, that I am reminded anew of his uncommon sweetness.
The dark sea has burned through my eyes, my nose, my throat, my chest, my gut by the time I find a photo I had forgotten about. It is a little blurry, but it is unmistakably our limbs: his arms, his graceful fingers, my knees curled up against his right hip.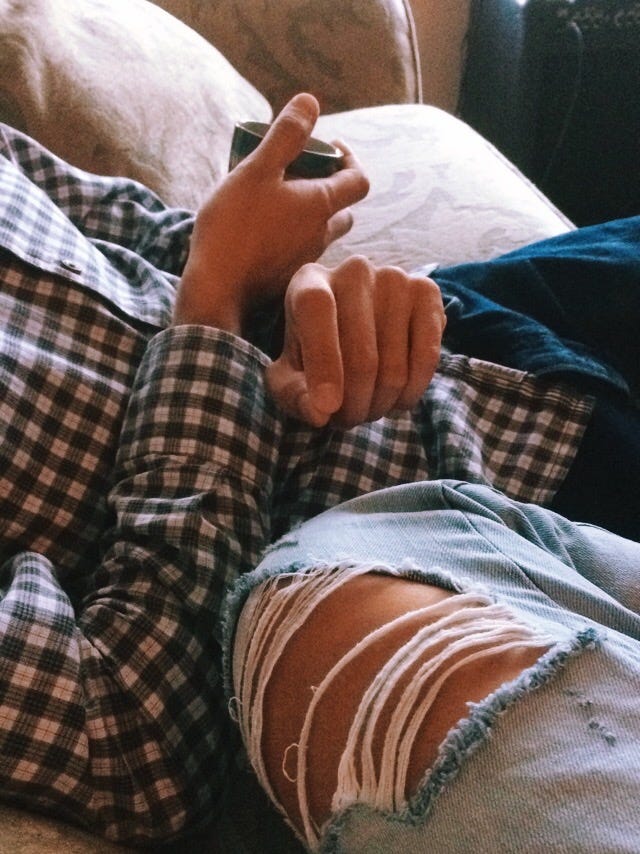 September 2014 - just slightly over two months into our relationship
I lean forward, rock back and forth.
I have always done this curling up against his body. Later on, I would unfurl even more, stretching my legs all the way over his abdomen in what I would call 'a leg seatbelt,' so I could see him grin. His fingers are so elegant. I pull at my phone screen to zoom in so I can look more closely at his hands.
The wavering 4 falls to a leaden 3 after this.
I find myself kneeling in front of his urn and begging. I am almost screaming. Calling for him to come back. Denying his absence. I am sobbing too.
"No, I say, "No. Not you. It can't be you."
The sea is so black.
It gums my eyelids together, thickens my throat and saliva.
I am still living with my parents, though they were at work during this time, as I am unable to return to the home he and I shared, terrified of the way, even in recollection, that it bristles with everything him, everything him that I find so indelibly, so unendingly painful.
Still, I thought, how can the art he hung so perfectly on our walls be hanging there without him? How have they not fallen? How can the glass not have cracked beneath the weight of his absence? Why hasn't he come back yet to hang the last piece of art? Why is it still sitting on the floor behind my writing chair?
He would have hung it by now. I know he would have.
He's dead, I tell myself.
But, the thing is, he isn't dead to me.
My therapist also tells me that there is a small clock on this early, acute pain. He says a window into it has to be opened, even just a little each week, because after a few months, the window will inevitably set, seal itself closed, and the body will adjust, grow used to this window that doesn't open, find new ways of managing its dark weight.
"You're so young," my therapist tells me, '"Don't carry this your whole life."
My whole life? What about his whole life?
Time seems to have passed. I am still so outside of it. I swipe my hand at my chin and find salt has dried in a thick, white crust beneath my chin where so many tears collected. To rid myself of the pale rinds, I scrub a tissue there until the skin burns.
Outside, smoke from fires far away has shifted a little and a piece of full sun reaches the patch of carpet I am kneeling on.
I don't think I will ever be capable of sobbing in front of another person, of speaking aloud this sorrow. But I will put it here, for you.
That is the best that I can do.
I trace my fingertips over the engraved letters of his name on the urn. How is a living man's name marked on a physical symbol of death?
It's all these contradictions in the grain: he's living, but he's dead; to keep living, I have to feel like I am dying; I don't want to but I'm trying; I am not statistically remarkable, but I am; I can't go on. I'll go on.
The sun patch shifts, lights up the gold lettering.
How strange it is. How unrelenting.
---