I experienced pieces of grief before my husband died: a close friend, gone, terribly; a break up, not managed well; a grandmother, passed on. You know. You have yours, too. But when my husband went, a full swath of grief opened up and took me in to a depth and breadth I had not felt before.
I may write more about those first few days after he died, but that is for later. For now is the matter of my body.
Maybe this causes you to wonder why: why my body, why now?
I suppose it's because of the way it was timed, the way in which my husband died, and then I almost did.
Specifically, on August 25, 2020 my mother and father insisted that I pile into their vehicle and be taken to the hospital emergency room to be 'looked at.' In order to pin this date down, I had to ask my mother. Time, as I have said, undulates above me now and I lose track of its usual markers. Until I asked my mother, I thought I went to the hospital three days after he died. But, it was actually ten days after.
I did not want to go to the hospital. I was tired. Exhausted. I didn't want to sit in the ER line for hours. I felt sure that I was fine, in the sense that I was not fine, I was a widow, but that my body was intact. I insisted it was nothing.
I did not know, then, about the 'widowhood effect.' I did not know, then, that if my parents had waited even one more day to take me in, according to the surgeon that would later speak with my parents, I would have died too (how I feel about this particular fact, which, as melodramatic as it seems, is a fact, is more complicated than you might think).
Let me begin again.
I thought when my husband died, there would be long days immediately after where I cried, violently, perhaps screamed, maybe dry heaved, for hours and hours.
This was not the case. There were too many things to be done. Decisions had to be made. Firstly, decisions about the body of my beloved. These are a few I recall having to think about:
Would he be buried, or cremated?

Would his remains be put into a graveyard or scattered in a public area?

What would his remains be placed within? An urn? A casket?

If his remains were to be placed in a graveyard, would that be public or private?

Would there be a headstone? If so, flat? Raised?

Or perhaps a bench?

A plaque?

What funeral home would manage his body?

Which one received the best reviews online?

Would there be a viewing of his body? Would this be open to family only, or to friends and family, or to anyone who might wish to come?

What would his body wear for the viewing? What shirt? What pants? What shoes? (He needed an undershirt too… but he didn't own an undershirt. So, where to buy an undershirt?)

If he was cremated, what would he wear for this?

Would there be an obituary? Online? In the newspaper? Who would write it?

How much would anything you or your beloved might want cost?
These questions meant meetings, with family, with funeral homes, with men in suits who drove us around graveyards and showed us different possibilities for where my husband's body might be buried, or interred if it were in an urn.
In particular, the day of the graveyard tour that was ultimately successful, it was beautiful outside. The grounds themselves were gorgeous. A mirror of water, blue sky, fully fleshed trees, extraordinary heat.

Of the heat, I said, "well, it was always going to be hot in hell."
As we were assessing one particularly scenic area for its potential as a final resting place, I said to my father, "it would be easier to think without all this damn noise."
The noise being an unbelievably loud, high-pitched sawing, from which there seemed to be no break, or escape.
"They're engraving someone's headstone," my father said, gesturing down the hill towards the men crouched near the epicentre of the noise.
"Oh," I said, understanding that he was right. "God."
We looked at each other, and I laughed, inexplicably.
The action sent pain sharply through my right rib cage. I seized at it. My upper ribs had been excruciatingly painful for a few days. I assumed I had torn my intercostal muscles from weeping as much, as hard, as violently as I had been at night.
"It's hard to breathe," I told my sister, who was also beside me.
She let me sling an arm around her shoulder, helped me limp and gasp my way to the next possible resting place to consider.
Over the next few days, though it felt like it might not, the rib pain subsided.
The questions did not.
There were more decisions to be made, this time around how to mourn in public:
Would there be a service? If so, a funeral? A memorial? A celebration of life?

Where would it be held?

Who would be invited?

Would there be food? Drink?

Would there be a slideshow? Who would create this?

Would there be music? Who would produce this?

Who would want to speak?

Who should speak?

Would there be florals? Who was a good florist?

Should there be a digital or a print Order of Service card? What photo of him should be on it? Who would make this?

Should there be a photo of him displayed at the service? Canvas? Framed? Which photo? Color? Black and white?

Should his remains be at the service?

Was an officiant or a pastor required to facilitate the service?

Could it be live streamed or recorded for people unable to attend?

What date should it be held on?

What time?

How would any of it comply with COVID-19 regulations about group gatherings?

How much would anything you or your beloved might want cost?
By the time I was thinking through some of these questions, it was August 24 and my ribs felt healed.
But, a new pain had emerged.
I woke the morning of the 24th to a sharpness in my left groin, as if I had torn it.
"That can't be right," I said my mother. "All I do is sit on the couch and cry."
She shrugged. She agreed.
"Well, grief manifests in unexpected ways I guess," I said.
So, we went for a walk.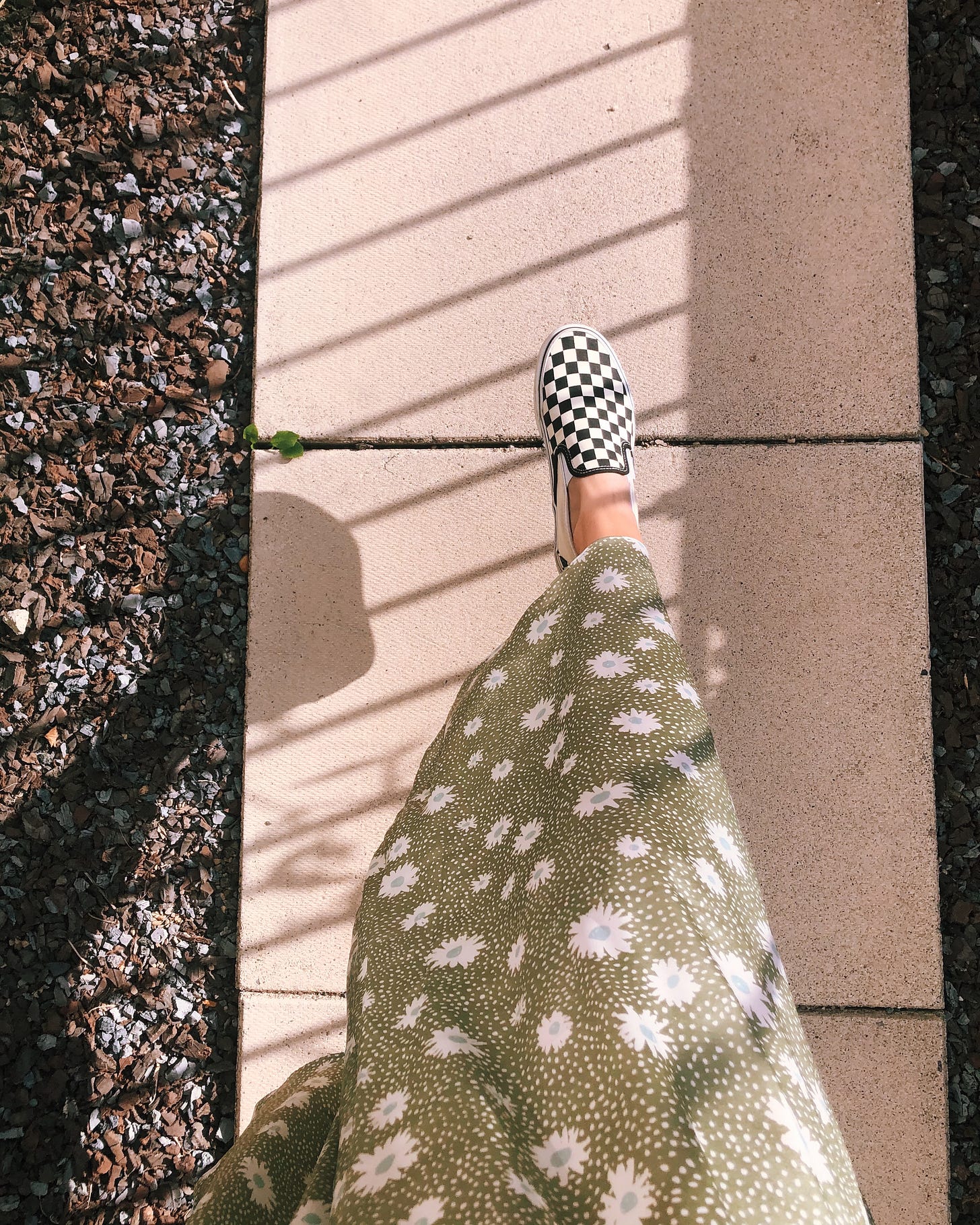 After all, there was sun, and my mother wanted me to go out into it, worried about me lying on my back all the time — or, at least, any of the time I was not in meetings, trying to answer questions.
I staggered down the small hill towards the walking path that runs behind my parents' house, where I am still staying, unable to return to the home my husband and I wove together. The pain in my groin radiated down into my inner thigh.
"My leg feels wooden," I said.
"It's a little discoloured," my mother said.
"Is it?"
I looked. We looked, but we couldn't be sure.
The next day, I toured the museum that would ultimately be chosen for my beloved's memorial. The pain in my groin was so great, I capitulated to it, asked for a wheelchair.
When I was sitting, it was not so bad. When I was sitting, I could almost forget its searing knot, its trailing threads.
After the tour, when I was back, stretched out on the couch, after a few hours, my mother gently asked me if I was crying only because I was bereaved, or was I also crying because my leg was so painful?
I don't know, I said.
I think I'm just sad, I said, but not convincingly.
So, the wheedling, so the insisting, so the car ride to the hospital, so the limping into the ER where a nurse took one look at me and went to go find me a wheelchair in which to sit.
When it was my turn to officially check in to the ER, my mother and father pushed my wheelchair forward, and my father told the nurse I may have DVT. Her eyebrows shot up.
"Really?" she said (likely because the average age of people who present with a DVT is at least 40+).
It is important to me to tell you how kind this nurse was to me. She had a lot going on. ER was exceptionally busy that night. Yet, when I told her my husband had just died, her eyes briefly welled with tears above her mask. This immediate, obvious empathy amid an already acute, alienating, draining time is something I hold very carefully.
The nurse gave us directions, directed us to go wait in the overflow tent. ER, as I said, was overwhelmed that night. A doctor would see me soon enough.
While I waited, with my parents, in the cool, hospital tent originally set up to manage an influx of COVID-19 patients, I ran my hands along my left calf. The skin was stretched tight and the flesh swollen. I massaged my left, aching thigh in slow, smooth circles.
I can't have a DVT, I reasoned. I have no risk factors. I am quite young.
My husband had just died.
Surely, I thought, that was enough.
---
(my body, in parts continues next week)