(TW: this post refers to suicidal ideation - it is also the second instalment of My body, in parts, the first part of which can be read here)
---
Sometime around 9 p.m. on August 25, 2020, ten days after my husband died, a hospital porter wheeled me to radiology, where an ultrasound machine would be used to send high-frequency sound waves through my leg in order to create black and white images on a screen of what was inside my body, my veins in particular.
Why is it, I wondered as the wheelchair twisted and turned down the hospital hallways, that hospitals always look as if they were decorated by someone who could only access artwork that didn't go at a garage sale?
I felt like a jerk, then. People died here. People lost their beloveds here. Did it really matter what was hung on the walls? But then, we passed a framed picture of a water-colour otter, standing upright, floating in white space. There wasn't even a gesture towards a stream of water or trees. Just the otter.
Maybe art died here too, I thought, and then felt a pang, not so much of guilt, though a little, but more because if my beloved had been there, I would have said it out loud, and he would have laughed. Even if he hadn't found it funny, he would have laughed, just to make me feel less alone, sitting in that wheelchair, propelled by a person I could not see.
The ultrasound room was dim, and the woman performing it, young, with a particularly soothing voice.
I stretched out on the soft table and the woman spread slightly cool gel down my left leg from my groin to my knee. The round plastic ball of the transducer pressed against my flesh and the room filled with the pulsating, clicking sounds of the Doppler. I flinched a little when she reached the flesh near my left knee.
"That hurts?"
I explained that I had fallen off an electric scooter on August 1, injuring my knee; it was still swollen. I told her that in the first week of August I had gone for my first ever ultrasound in order to make sure I hadn't torn my MCL or meniscus.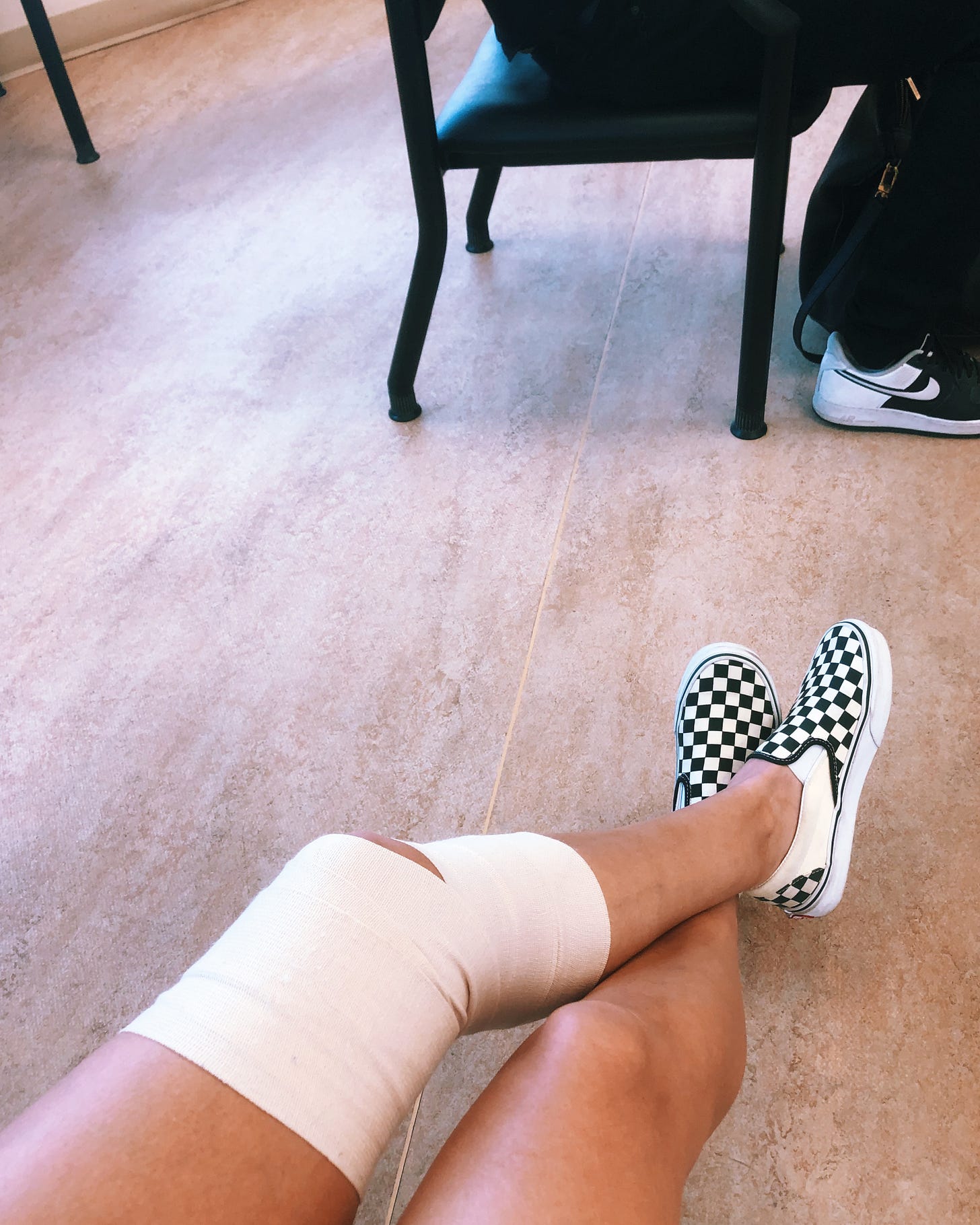 I didn't tear my MCL or my meniscus, something I announced to friends with this photo of my legs, and my beloved's feet, swathed in the Nikes he bought last year on our honeymoon in Japan.
I did not tell the woman that earlier in August, I had thought that first knee ultrasound would be the only one I might need until perhaps, somewhere in what I assumed was my future, I was pregnant.
Instead, here I was again, flat on my back, a widow.
"Okay," the woman said, "I'm also going to have a look at your stomach too."
She warned me about the coolness of the gel, and I wondered why my stomach too. After all, wasn't the clot supposed to be in my leg?
"I'm just being thorough," she said.
This is something that sounds good but in fact generally means something on the screen you can't see has caused a sudden intensity of focus, a renewed commitment to 'being thorough.'
I stared up at the blank ceiling tiles and wondered when my beloved would call me. It had been so long, I thought, since he last called. I had so much to tell him.
"All done," the woman said, interrupting me.
She cleaned the gel from my skin and then left the room to strip her gloves off. While she was absent, I sat up and looked at the screen. There was a long blue line on one of the black and white images and a red squiggly line on another. The lines didn't mean anything to me, but something about the relentless march of the black and white frames, the clarity of the blue and red highlighting didn't feel reassuring.
I was returned to the overflow tent, where my parents and I waited for the results.
I texted a few of my people:

This being one of the last few texts I would send for the next week
Around 9.30 p.m, the ER doc came to me, and my parents, clutching a sheaf of papers.
He told me that I had a large clot in the femoral vein of my left leg. He kept talking, but I had stopped listening, handing the stack of papers to my father, who is in the medical profession and so better with these kinds of words than me. If I had kept listening, I would have learned that the clots extended into veins in my stomach, and that there were almost certainly clots in my lungs.
The ER doctor asked if I'd had rib pain or trouble breathing recently.
I said, "Yes … (but grief)," "Yes … (but strained intercostals)," "Yes … (but all the crying)."
"Yes," he said, "but clots."
He told me I would be going for a CT scan next to get a better understanding of how far up into my chest the clots extended.
I really hadn't expected to have a DVT.
I had expected to go home that night, exhausted, but with instructions to ice and elevate.
Instead, I was wheeled by another porter to the room that housed the CT machine. I was told to be very still, that when it began I would feel warm in my groin, like I had urinated, "But don't trust the feeling. You won't have peed yourself."
On the ceiling tiles, someone had painted big, awkward butterflies in now cracked, and peeling primary coloured acrylic paints.
Don't trust the feeling, I thought.
I had a feeling that my husband was dead, but I refused to trust it.
When I was returned to the ER tent just after 10.30 p.m., I was officially informed that I was being admitted in to the hospital. By 11.05 p.m., the CT results were back.
Yes, the clots were up high through my stomach veins, yes they were in my lungs.
I can only report these times accurately because of the time stamps on the spare, blunt messages I sent to one of my people then, updating him in messages now devoid of even black humour. I admitted to him that I felt 'a little freaked,' though I had not let myself think that beyond writing it down. Even saying something like that in writing felt like screaming in fear to me.
The ER doctor told me I would soon have an IV inserted into my arm that would allow them to drip Heparin, a blood thinner, into my body. Heparin would help prevent the now close-looming scenario where a big part of my clot would break off and travel to my brain and stroke me out, or strike my lungs and collapse them.
I forget, at this point, how many times I asked my father if I was going to die. At least three times.
He told me that I would be on Heparin soon, in response.
A nurse came to me with a steel bowl full of the tubes and needles needed to insert an IV into the crook of my right arm. She was flustered and rushed. The IV was large, far larger than others I've had before, and though I am not squeamish about needles, it took a minute to thread, and with the nurse's shaking hands, and the clots that were suddenly confirmed to be inside my body, I felt a weird, eerie braid of lightly buzzing panic and quiet, placid relief.
This was not something I had experienced before.
By this I don't mean the DVT, and the freshly confirmed PE, by this I mean the blunt clashing between what some might call the reptilian brain and the sad brain (unlinked because that's just my term for whatever part of the brain it is that I'm talking about).
The reptilian was warning me: "your life is at risk!" It was telling me: "do what you can to live." And so, hence the panic, hence the acceptance of the first IV, of the wheelchair ride to the ER unit, of the blue hospital gown, the white hospital wrist band, the second IV (smaller gauge, but still arrived in a steel bowl) carefully inserted by a nurse whose hands did not shake, who said, "thank you, honey," with a pleased twinkle when the needle slid into the crook of my left arm almost painlessly, and I told her: "you're good."
But the sad brain was talking too. It was telling me: "It's here. It's actually here."
I had been longing for it since he died, and now it was finally here.
"A way to leave!" the sad brain said.
Hence the relief.
Ever since my husband died, I was concerned that if there was an After, he would be lost in it, or confused, perhaps even unsure. He could be like that, particularly in new places or situations.
I felt if I could just catch up to him, I could help him with directions, with certainty. That was part of my role when we were together, after all. He would look up at the night sky and I would make the stars make sense.
"Look," I would say, "that's Gemini. That's Draco."
I would trace my pointer finger through the firmament and show him how it was connected, how to navigate it.
It had only been ten days, I reasoned beneath the glare of the fluorescent ER lights. If I went now, I could still find him. He might even be waiting for me.
I mean, that was always the plan anyway. To go onward together.
People had been telling me since he died that I had to take each day at a time, that he would want me to keep on living, but I didn't want to do any of that.
I wanted to leave.
I had always felt a general ambivalence towards the human project any way. Now, with my beloved gone, it seemed so clear. I could go too, and he and I would help each other towards whatever there was in the After - and if there was nothing and nowhere, we would be together. We would be together nowhere. I would be as he would be.
He always wanted us to be together, you see. He would tell me all the time. It was a gift, his gift, how often he would tell me that we would do all of it together.
So, back and forth they went, the reptilian and the sad brain. Back and forth.
Somewhere amid this see-saw, just before midnight, a nurse hung two clear bags from the tall, steel IV stand. One was saline, the other: Heparin.
Another woman brought me a bedpan. I'd never used one before. Now, I know that I can't pee into one unless someone, in this case my heroic mother, makes hissing noises.
Does all of this feel like too much?
Yes?
Perhaps it will help if you know that all of it feels like too much to me too.
But I'm telling you all of this because this is really how that first day ended, that first day of what would ultimately be six days in hospital, six days somewhere between the staying and the going.
---
My body, in parts will continue next week.

PS. It feels strange to type into the void that is The Internet so I thought I would let you know that you can speak back from the void (if you wish) in two ways:
by hitting "reply" on the letter email you get each Sunday in your inbox

by leaving a comment below
Always, I am so grateful for your readership, and if you feel so compelled, I am also very glad to hear from you - from where ever that might be.