(this is the third of four instalments of My body, in parts - you can read the first part here, and the second part here)
---
After being admitted to the hospital with a confirmed DVT and PE, which is to say, with a lot of blood clots confirmed to be in my left leg's veins and my lungs, I spent the night of August 25 partially in the bright, loud ER unit, and then the rest in a room on the much quieter, much dimmer Vascular unit.
There was talk of postponing my beloved's memorial (something that did, eventually, have to happen due to the duration of my hospitalization) as well as more thoughts about realities to which my beloved always felt so sure we were immune. Realities like separation and aging and crack up.
"Fifty years baber," he would say to me, using a variant of the word babe that I had never heard anyone else ever use, except him, when he was talking to me.
"If we're lucky and life is long," I would say.
"We are," he would say. "We found each other."
He was like that — sweet without being saccharine or insincere.
By just after 6 a.m. on August 26, there was a blood draw—the slight prick of a needle, the snap of an elastic tourniquet—and a wash of white light through the window.
This was the day in which I spoke with several surgeons and a few vascular surgery residents, one of which wore a bright pink and green fanny pack. There was talk of post thrombotic syndrome, May-Thurner syndrome, a drug named TPA, and an AngioJet thrombectomy. Various blood thinners were also mentioned: Heparin, Warfarin, Apixaban.
These words flowed over me like a cold, unfamiliar, and slightly unwelcome flood.
I understood the general shape of each of the terms discussed: because I was younger, the usual clot treatment—blood thinners + TPA + time—wasn't recommended. The usual route might cause, indeed likely would cause, severe post thrombotic syndrome, which was a long way of saying even after the clots dissolved, my left leg would always hurt and swell incredibly when I moved, be it quickly or slowly.
TPA, by the way, the doctor explained to me as, "Draino, but for veins. A real clot buster."
I also presented with the seldom diagnosed May-Thurner syndrome, which meant my left iliac vein was compressed by the right iliac artery.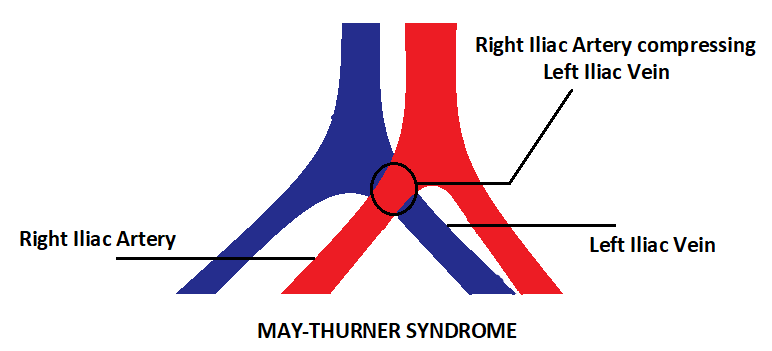 This graphic explaining May-Thurner was shown to me, by way of surgeon, and courtesy of the Avicenna Vascular Institute
The vascular surgeon said there was likely a clot at the compression site, one likely so old, and carried in my body for so long, that compensatory veins had grown around the clot, so the blood could still get where it needed to go. This, the surgeon said, was up for discussion later. There was mention of the surgical insertion of a stent at the compression site.
But, for today, the surgeon emphasized, we were focusing on the AngioJet thrombectomy. The surgeon told me he had done a fair few when he trained in Texas.
When I asked, he told me, no, he wouldn't be the one performing the procedure. There were interventional radiologists at the hospital that were trained to do it.
I had other questions. He had other answers.
Yes, it was an aggressive approach.

Yes, it was essentially going to involve shoving a tube up through the back of my left knee and vacuuming out as much of the clot in my vein(s) as possible.

Yes, there were risks.

Yes, it was possible the procedure could destabilize my clot.

Yes, part of it could break off and wreak potentially fatal havoc.

No, I would not be entirely unconscious. I would be sedated, but partially conscious. It was this way because I needed to be able to report any searing head pain (stroke), or chest pain (heart), or difficulty breathing (lung collapse).
I told him about the time I woke up during my wisdom teeth extraction, despite having been put under with general anesthetic, or the other time I was told the sedative administered before my surgery would erase my memory and it did not.
"We have a lot of drugs here," he said.
I looked at my father, my mother. They shrugged a little, but nodded.
Both of them had been so calm, the whole time, even when sleeping on the floor, or on uncomfortable chairs in strange shades of taupe.
Say yes, the reptilian brain urged me. Say yes, my parents' tired but steady gazes said.
"Okay," I said. "Yes."
The procedure would occur in a few hours, but I would need to be prepped first.
This meant I would first need to have a COVID-19 nasal test — an experience through which I writhed, the swab reaching so far up my nasal cavity that it left my brain ringing for two hours after, my eyes still watering when my test came back negative.
"Prepped," also meant a catheter, which the nurse held up in front of me, while asking if I had needed one before.
I looked at the plastic bag, the long, slightly yellow plastic tube.
"It's not so bad," my mother said in answer to the question I had not asked.
To be fair, it wasn't so bad. But then again, what I thought of as so bad had drastically changed over the past few weeks.
"Your urethra was easy to find!" the nurse happily exclaimed once the catheter was in.
I couldn't match her enthusiasm, but I liked it. My beloved was this way too. He was always turned towards delight. He found it in even unexpected or strange things — a perfect curl of toothpaste perhaps, or his gleaming, carefully exfoliated face — and he would celebrate these things. He would turn his face this way and that, let it catch the light, ask me if it was shining (he knew it was). In this way, he could, and often did, turn me towards light I would not normally see.
Without him, I am not sure what axis I am on, if I can turn at all anymore.
I did not tell the nurse any of this. She was already tapping my veins, preparing to put another IV port in to my arm.
A few hours later, I was wheeled in my hospital bed towards the interventional radiology unit. A team of nurses and porters navigated the hospital hallways. My IV lines kept getting tangled, yanking at my arms. My catheter bag was hooked to the edge of the hospital bed rail.
The hospital hallways, which always seemed so large, had shrunk, littered with obstacles around which the porters gamely steered me, while I looked up at the ceiling, my breath warm against my skin behind my mask.
If it is not clear, I was afraid.
In the radiology room, I was shifted onto a narrow bed. There were plastic inserts slid beneath the bed so my elbows could rest slightly askew from my body. People milled around the room, just eyes above their masks.
The back of my knee would be prepped for an IV, and for a catheter as well - this was what would carry the AngioJet into my vein(s). The radiologist also wanted my groin and my neck prepped as possible IV sites.
There were very large, black screens above me. Screens, I understood, on which the radiologist would be able to see the interior of my veins, discern the exact shape and trouble of these clots I was carrying around.
A woman with bright blue eyes told me they were starting the sedative. She said I would feel drowsy soon.
I waited.
I was, in fact, still waiting when Blue Eyes checked on me. Those eyes were startled, I believe, to see how bright my own were.
"Well," she said. "You still look quite alert."
"Yes," I said. "You're going to need a bigger gun."
So, the call went out for more sedative.
A blue hood was pulled over my head, encasing me in a close, pale bubble — so I couldn't see what was happening to my leg, I supposed.
The fabric was quite close to my mouth. I licked my lips. I had stopped eating for days after my husband died, and then had been NPO before the procedure.
Had Kurtis eaten anything yet? I thought.
He often skipped meals when he was under stress.
The blue fabric crinkled slightly with my exhalation.
Of course he hadn't eaten, he was a body, but he was not a body that needed sustaining, anymore.
The fabric was so close to my face. It closed me in. Left me with nothing to consider but the awareness of the fracture in the land into which I had just, momentarily, fallen.
I hadn't consciously known it, when he was alive, but now that he was gone, I was excruciatingly aware that there was (is) an unconscious topography to my life, distinct from my own shape and features, but inherent to it, overlaying my own surfaces like a fine, mesh net.
This unconscious topography is, of course, of my husband. It is a study to which I am still carefully and often unconsciously devoted.
Of course, there is no need for such study when the husband is dead, but the topography has nothing to do with his death, and everything to do with me, still living.
I was relieved when Blue Eyes peeked under the bubble again.
"Tell me something about yourself," I told her, weary of falling, yet again, into a habitual navigation for which there was no longer any temporal necessity, weary of how the fall reminded me of a reality I did not want to believe.
Still, do not want to believe.
She showed me pictures on her phone of her daughter's fluffy white dog, and somewhere amid the fifth or sixth image, I said, "I do feel a little drowsy."
She nodded and the bubble closed again.
Then, there was a searing pain in the back of my left knee.
I called out.
"Oh," Blue Eyes said from outside the bubble, "did you feel that?"
"Yes," I said. "I really did."
A faint prick followed. The radiologist had put some local anesthetic into the back of my knee so I wouldn't feel the AngioJet catheter going in, or the IV.
What I recall next was a tugging, tearing, hot sensation along my left leg, above my knee. I remember calling out about the pain. I remember asking if I could take a break, just a small break.
"Is that the AngioJet?" I said to Blue Eyes.
"Yes," she said. "That's the AngioJet."
Later, I would learn some people don't feel the AngioJet at all. Later, I would learn they gave me as much sedative as they would someone almost 100 pounds heavier. Later, I would learn throughout the whole procedure, Heparin and TPA dripped into my body - a combination not usually undertaken, the usual routine requiring one, or the other, but rarely, both. Later, I would learn the whole procedure took about ninety minutes.
When it was finished, when I was slid back onto my hospital bed, I had an IV in the back of my knee, and IVs in both my arms. The plastic lines crisscrossed my body and knotted around each other. I was extremely nauseous. My leg hurt. I was also very tired, despite having done nothing but lay on a table for the last hour and a half.
The radiologist was talking to me.
He was happy with how the procedure had gone. Now, I was being sent to ICU where I needed to lay entirely flat on my back, and be totally still. This was so the TPA dripping continuously into my body could easily reach the remaining clots that the AngioJet hadn't extracted.
In the ICU, I would be woken every hour for blood draws (to monitor the levels of TPA and Heparin in my body), and vitals checks. The nurse would also use a small, hand-held Doppler to hear the pulse in both my feet, which were scored with black pedal pulse markers. I would be asked every hour, if I had head pain, or chest pain, while a nurse flashed a penlight at my pupils.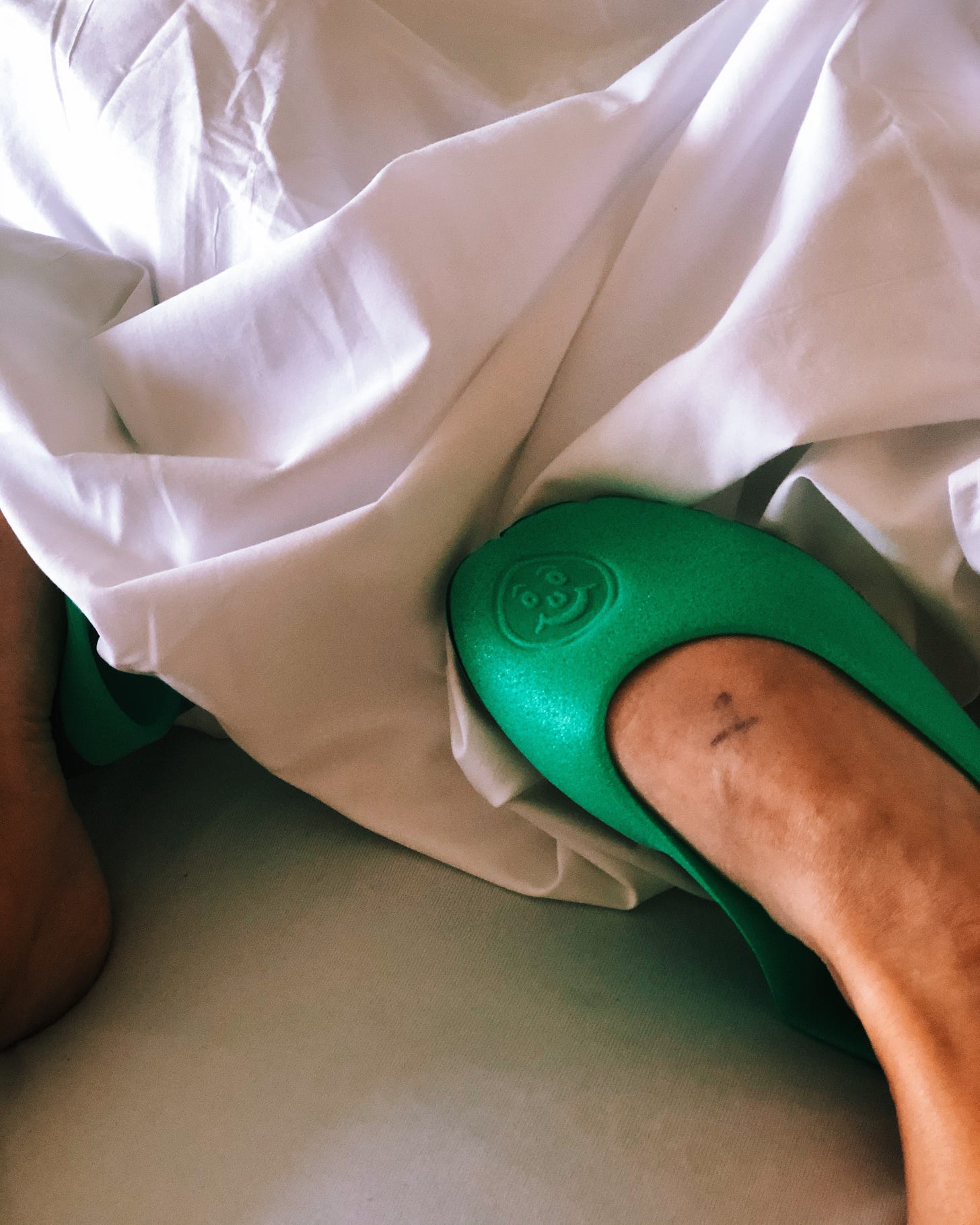 The insouciant slippers I was given and the eerie pedal pulse markers (which are little x-marks-the-spot(s) for where there should be a pulse, if blood is flowing properly
It was somewhere amid this explanation that my body convulsed and I threw up so much stomach acid that the small kidney shaped tub my mother offered me — my gracious, my quick, my evergreen mother — overflowed with thick, stinking fluid that covered my chest and my gown.
Does that seem gross? It was.
I continued to throw up at odd intervals in what would ultimately be 3 nights in ICU, though I will spare you further exposure to the vomiting.
What I will tell you, though, is that three nights of needing to lay entirely still left my back racked in pain that I could not relieve. I will also tell you that somewhere, sometime around three in the morning, maybe on the third night, when the nurse asked about head pain, I said "Yes."
"Really?" she said.
Really.
To be certain, I was immediately sent for a CT scan of my brain, to make sure the TPA hadn't triggered a bleed.
When I was returned to my ICU room, as of yet unsure if I had blood on my brain or not, as a means of distraction, my mother told me my phone was flooded with messages. She offered it to me.
I shook my head. I could no longer even feel energy, let alone imagine the weight of holding my phone in my hand. All I could feel was the physical labor of my body seizing up in the bed, the rancid wash of acid in my mouth.
I did take one call, though, from a dear friend who actually works in an ICU for a living. My phone log reports that we spoke for six minutes at 9:14 p.m., that first night on the unit.
I have no idea what we talked about.
I refer to my time in the ICU as nights, because my time there felt entirely like that — no days.
After the third night, when I was finally told that my CT scan was clear, that I did not have a brain bleed but rather, more likely, a migraine triggered by stress, the vascular surgeon came back to talk to me.
The TPA had done good work, but —
My head lifted slightly off the hospital pillow.
"But?"
But he thought it would be best if I underwent one more AngioJet. The clots higher up in my inferior vena cava hadn't dissolved as much as he'd hoped.
This time, I knew better. This time, I knew there weren't enough drugs.
"No," I said. "Not again."
They were all shaking their heads at me. My mother, my father, the surgeon, the reptilian brain.
They could get more of the clots, they explained. They were sure.
"No," I said, "It was so painful. I am so tired."
It would be better, they said, in the long run.
"My husband died at thirty-two," I said. "Don't tell me about 'the long run.'"
---
(My body, in parts continues next week)

If you would like to speak back to me from where ever you might be, you can in two, primary ways:
by hitting "reply" on the letter email you get each Sunday in your inbox

by leaving a comment below
Always, I am so grateful for your readership.