TW: this letter refers explicitly to the sight of my beloved's deceased body.
It is also the fourth and final instalment of My body, in parts. You can read the first part here, the second part here, and the third part here.
---
The extensive deep vein thrombosis and pulmonary embolism (otherwise termed, by my friends, as 'blood clot city') that hospitalized me and required an AngioJet to clear the thrombosis from my body (detailed here) eventually lead to a second AngioJet. It went largely like the first, except this time when the procedure was finished, one of the assists, a woman with dark brown eyes gleaming above her duck patterned mask asked me, "Do you want to see your clots?"
I sat up slightly.
She showed me a large, glass jar with a tightly sealed lid. Floating in clear liquid was a web of thin red strings, upon which hung dark red blood clots, of varying sizes, like strange, fleshy pearls.
"They're smaller than I thought," I said.
When I was returned to the ICU, I thought I would be discharged from the hospital soon after. This thought dissipated quickly when I tried to sit up in my hospital bed and couldn't. Extensive swelling and bruising tenderized the area above the back of my left knee all the way down to my calf. The bruises beneath my skin on my leg were so dark I initially thought they were dirt.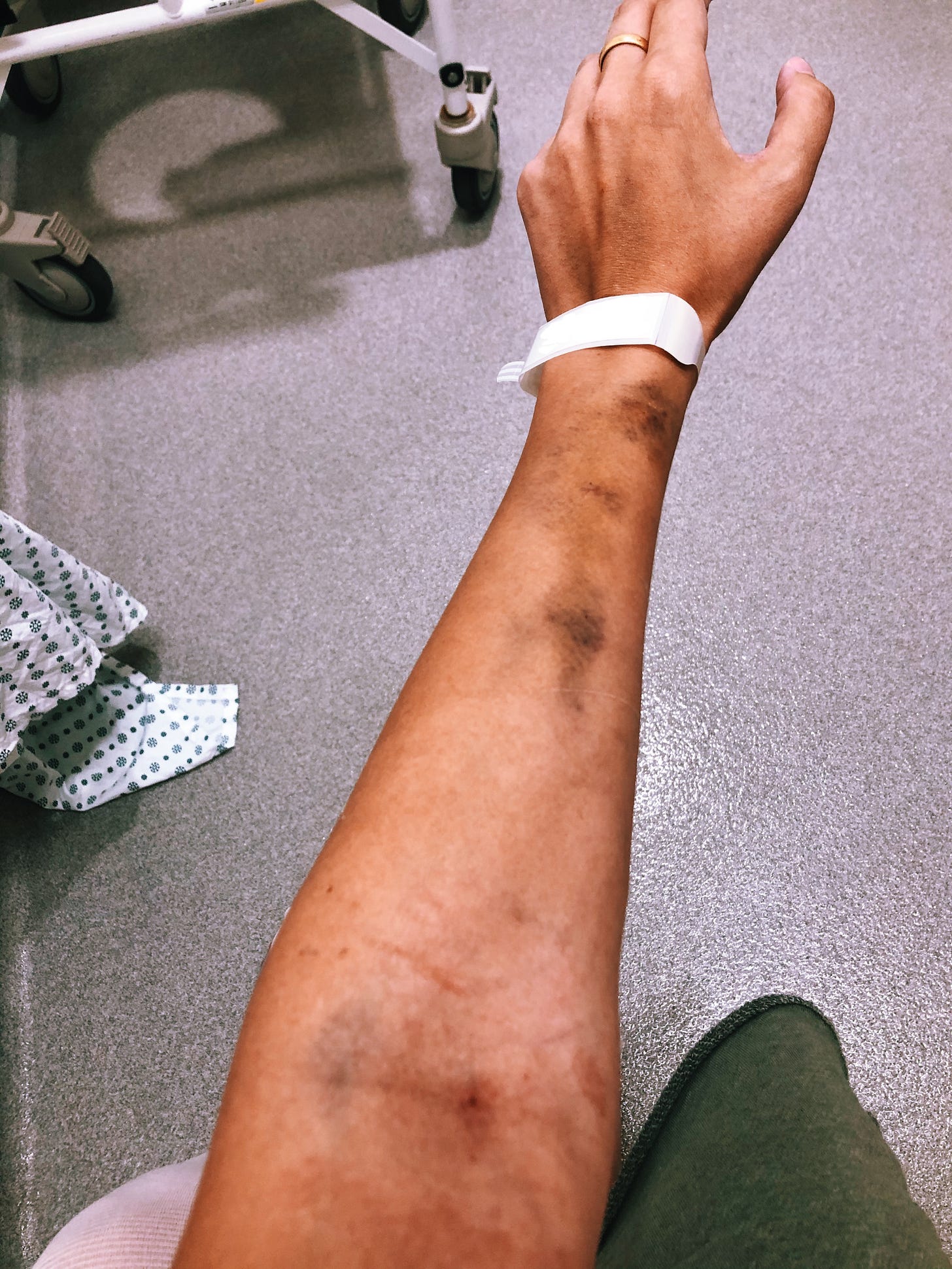 This is not my left leg, but it is my left arm, photographed in one of my last few days in hospital, and evidence not only of the power of blood thinners but also that I was finally feeling well enough to pick up my phone (and what is that if not a medically reliable indicator of health improvement?)
I realized the process of leaving the hospital would be an incremental one.
First, sitting up; then, staggering, with the assistance of a walker, to the bathroom, which for context, was in my hospital room; and finally, gasping and limping my way around the unit with the walker in a satisfactory enough manner that the physiotherapist signed off on my release (and all of this with my parents close behind, in case I fell, which I almost did — a lot).
Full sun spread out in an expansive sheet over the city the day I left the hospital, six days after I arrived. I took with me:
a prescription for Apixaban, a blood thinner I will be on for at least six months

a prescription for a 30-40mmHg thigh high compression stocking that I wear every day, for at least the next year, and which turns every outfit into that of an injured NBA player

I also had to buy special, grippy gloves to wrestle this stocking on and off—a task unexpectedly Olympian in its undertaking.

stern directives not to take any medication that might negatively interact with my blood thinner (this included my migraine medication (R.I.P), and my estrogen-based birth control (Yaz, my old friend), both of which are now permanently inaccessible to me).
"You were a real one," I said, as I threw my birth control packets into the bin.
It was an unexpected, minute loss amid all the larger ones: this unceremonious discarding of a pill that had been faithful to me for over a decade.
Upon returning to my parents' home, I entered a strange, liminal week in which I had to write my husband's eulogy and prepare to read it at his memorial without collapsing behind the podium. I had to practice standing. I could only make it to 4 minutes before having to take a break.
I also had to take my body to see his body.
I chose what my beloved would wear for the viewing in a haze somewhere amid the first day home (his wedding suit and shoes). I also chose the photos of him that were to be displayed on the digital screens outside the viewing room at the funeral home.
This might sound like I was capable of doing things, when in fact, I was (am) not.
When my husband was still alive, I would have assumed I would have thrown myself into solving the logistics of death as a means of coping. Typically, hyper-productivity is how I manage stress and anxiety, but whether it is the continued wear of my DVT and PE or just the way my grief is going to go, I have found without extreme support, all I am able to do is sit on the couch and stare out the window, often saying his name softly—an unanswered plea sent out over and over.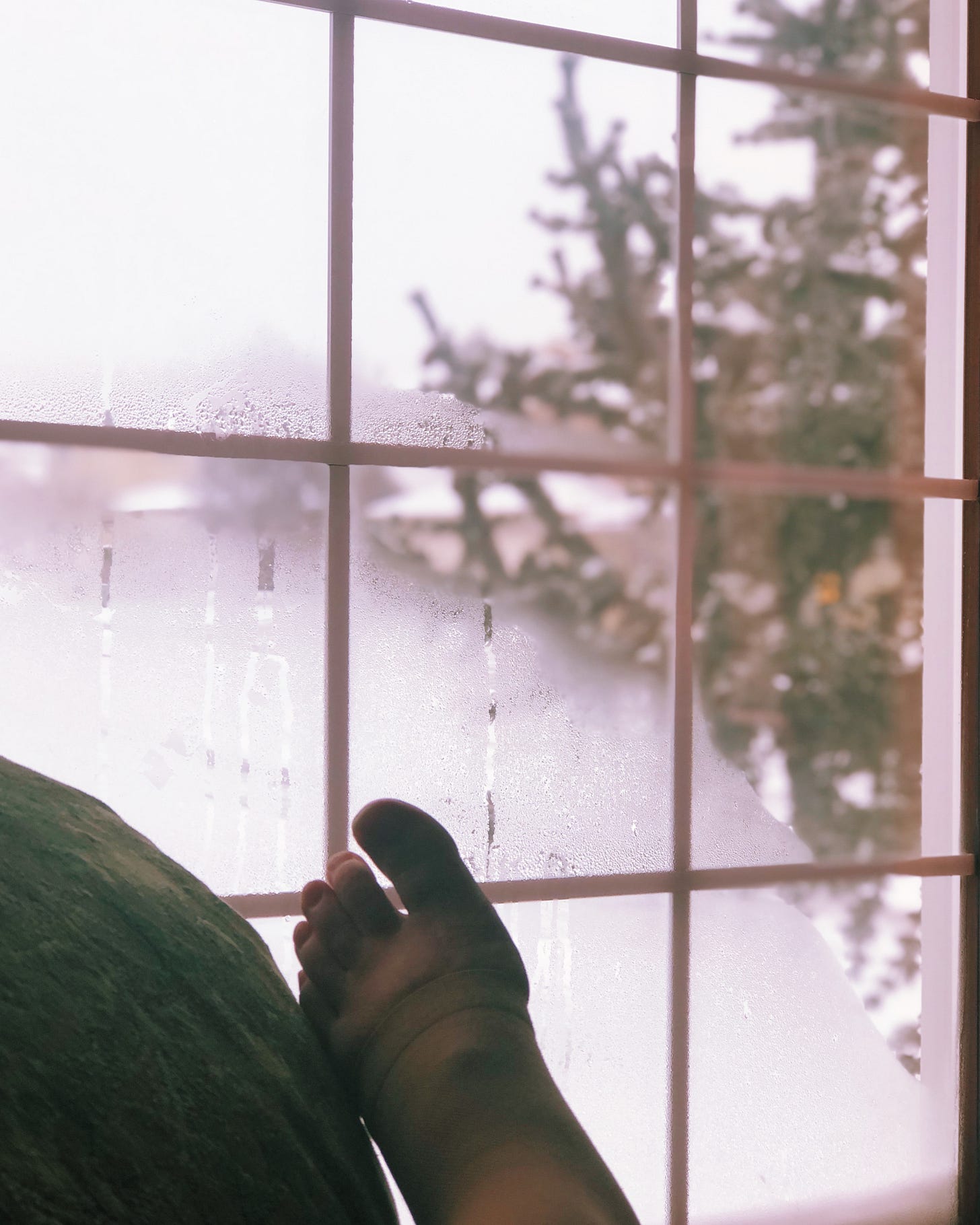 The aforementioned compression stocking and the window through which I have looked for many hours
So, it was my mother and sister who braved what I now call The Death House, otherwise known as our beloved apartment, to find his wedding suit and shoes. I couldn't, still, cannot bear the thought of entering the home we grew our lives together within, the home we took literal and metaphorical shelter in.
It was my father who drove to the medical supply store and rented the walker I needed to move around, and my father who travelled to the Asian supermarket and brought home sweet ham and cheese buns from the bakery, because I still wouldn't eat, unless extraordinarily tempted (as I am by these buns, which come in crackly plastic wrappers and grease stained white cardboard containers, similar to but not quite like these speciality buns).
It was both my mother and my father who accompanied me, and my walker, to the funeral home the day of my husband's viewing.
As we walked in, me limping, I wondered why it is that they're called funeral homes? Why not funeral buildings?
In the entryway, I saw the pictures I had chosen, one of him at our engagement shoot in Los Angeles, a picture that he loved because he said it made him look 'Hollywood,' and the other of him break dancing at our wedding — a full body hallelujah.
"He looks good," I said. "The pictures look good."
I had asked for my own, private time slot. I wanted to see him alone, which I could tell my parents felt unsure of, and my therapist too, but I was convinced.
"I've already seen his body," I explained, offering it up as proof of preparation.
After all, I was the one who identified my beloved's body to the RCMP at the small hospital where he was officially pronounced dead on August 15, 2020.
"You can touch his hand, but nothing else," the emergency room doctor told me as she led me to the room where his body was still stretched out on the yellow spinal board the emergency responders used to transport his body from the ambulance in to the hospital.
I know I was in shock. I panned up from his sneakered feet to the top of his head, where his Ciele running hat was askew, his dark hair crusted slightly white with sweat at the roots.
His eyes were open. They were brown and big, as they had been in life, but death seemed to have blown them out even larger, lightened the shade of brown, made them strangely glassy.
He was so still. His skin had even gone still, the way milk does when it sits out for a long time. There was an abrasion in the middle of his forehead. The medical team had drawn a sheet up to his mid-chest, which draped over his hands, though I could see the slight curve of where his hands were resting.
I touched the top of his right hand through the sheet.
I told him I loved him.
This is why I thought I could see him alone, at the funeral home. I thought I understood what it was like.
When I pushed open the dark wood doors of the viewing room and hobbled, leaning heavily on my walker, in to the room, I found it was actually two rooms, with the wall pulled apart. The casket was far further from the door than I had thought. I could only make out the slight puff of his dark hair across the distance between us.
Acute, bright fear ran through me.
This was unexpected. Understand, in almost seven years, I was never once afraid of my beloved. But now, I was. Perhaps it was the casket, or the more formal setting, or even the slightly lesser degree of shock.
I was afraid when I spoke, at the sound of my voice, he would wake up. Maybe sit up, maybe struggle. He might be scared — I would be, trapped in a casket, coming to.
How would I explain everything to him?
I pulled a chair up about ten feet from his casket and sank into it. My therapist had told me to prepare something to say, so I had brought my wedding vows. My beloved had wanted me to read them to him again, on our second wedding anniversary which is upcoming in November of this year. I had also written down some other things, weird stories, little sharp objects I know he would have loved, gossip I kept wanting to give him in person, but couldn't.
From where I was sitting, I could see part of his nose and his cheeks, the pale mound of his hands folded over his stomach.
I inched the chair closer.
I said his name out loud, quietly, and then when nothing happened, loudly, almost at a volume high enough to qualify as a shout.
He didn't move.
I pulled the chair in further. I was maybe two or three feet from him then.
I told him it was time for him to come back. I told him I needed him to return my calls. I told him I couldn't do any of it without him.
Still, he made no movement.
I stood up and closed the last stretch of distance between us.
There he was. His wedding suit didn't fit right. His body had bloated, I realized, and the perfectly tailored jacket hadn't. Yet, whoever prepared him for the viewing had done his hair perfectly. It looked exactly like his — I reached out and for a moment, the fear flared: what if his hair wasn't really his anymore? But then my fingers landed on the strands and the fear sank back down. This was his hair: silky, thick.
The beds of his fingernails were blue.
His face, eyes closed this time, looked like his, but much older, as if I were looking down at a wax statue of him in the future. There was a bulge of flesh behind his ears that was exactly as it was in life, when he was laying on his back in bed, beside me.
"You are so beautiful," I said.
I touched his shoulder and found it entirely rigid. It was so unlike him, he who in body and spirit had been warm, and soft, that I pulled my hand back quickly, did not touch that part of his body again.
The scratch in the centre of his forehead had been flawlessly covered. I could barely make it out, and only because I was looking for it.
Somewhere, outside of the room, someone turned on music that blared through the speakers. I texted my parents waiting outside, asked them to see if the music could be turned off. In a minute, it fell silent again.
I read him my vows. I told him the things I had been waiting to tell him. I did not tell him about my hospitalization or explain why the walker was in the room because I didn't want him to worry.
When I was finished, I looked at my phone. I had been in the room with him for over forty-five minutes.
I didn't know how to leave. We never said goodbye. He always said, "See you soon," and I always responded, "Be safe, love you."
My throat was closed over, too. Soggy, white tissues were crumpled up in my palms, tissues I don't remember reaching for or using. They just appeared in my hands, these sodden, white rectangles.
So, I wiggled.
It was a strange, wavy movement, one of the many kooky dance moves that I would do when I felt alien in my body, or hungry, or just plain playful. I only danced like this at home, with him, and only because my husband loved it. He danced crooked and silly and with total abandon. He would dance while cooking, or in the middle of arguments, or just because. Often, I would be drawn in to the dance too, compelled by his sheer glee, and we would dance, separate but together, each trying to move more oddly than the other — him, to 'win,' and me for his laugh: his expansive, remarkable, completely unfettered laugh.
This is how I left him: dancing backwards—so I could see him until the doors closed—a weird and squiggly movement, hands tight on my walker, so I wouldn't fall.
But this was not the final time I would see his body.
The day of his cremation, later that same week between hospital and memorial, I attended with my mother, and other members of his family — his mother, his father, his older brother — and we saw him together, before the casket was closed.
This time, I hadn't prepared anything. This time, I walked right up to him, touched him, pleaded with him to rise up, scare the living daylights out of all of us.
This could be one of his magic tricks, I thought. A grand illusion, concocted in our cramped apartment's bathroom, where he often practiced magic tricks he would show me later.
"Sit up," I begged him, but he did not.
Attending the cremation was not something I knew you could do, until the funeral home director offered it to me and my beloved's family. It is not a journey I recommend, but it is one I took because it was the last trip I could take with my beloved.
After the casket was sealed, and before we descended in the elevator to the crematorium, a woman warned us that it was "an industrial looking room."
This was somewhat of an understatement. The elevator doors opened onto a small, carpeted area that ended at the edge of the concrete floor that lined a windowless concrete room, dominated largely by the hulking shape of the cremation chamber. The chamber's corrugated metal door was rolled up, and I could see the dark shadow of the chamber's interior.
The casket was lifted up on a hydraulic, wheeled platform and slowly transferred into the shadow, erased from sight. The metal door rolled down and locked.
A woman asked if we wanted to "push the button."
"The button" was green and egregiously large. It was affixed to the side of the chamber. It might have even had large white lettering on it that said START.
I walked towards it with my husband's mother. It felt absolutely massive to me, looking at it.
When the cremation began, it filled the entire room, my ears, my head, everything with the sound of its roaring.
"It takes several hours," the woman said, ushering us back in to the elevator.
The next time I would see my beloved, he would be encased in a dark wooden box, an urn.
As my parents drove me back home, after attending the cremation, I looked out the car window and watched the city flash by in segmented parts:
Bus stop.
Man ruffling through a garbage can.
Church.
HOT PIZZA.
A line.
I looked more intently. People were wending from the entrance of a bakery, each spaced six feet apart, everyone masked.
This reminded me of a line my beloved and I stood in for hours while waiting to enter the teamLab digital art museum in Japan, last year. We had initially arrived at the doors of the building, only to be told that this was actually the head of the line. We paused, staring down the line's twisting, seemingly endless length. I immediately dispatched my beloved to go get us some 'standing around snacks,' telling him I would find the back of the line and hold our place.
I walked a great distance, searching for the terminus. What I found was a woman dressed in a black shirt sporting the museum's logo. She was holding a large white placard affixed to a pale, wooden stick.
THE END OF THE LINE, I read, written in English.
I laughed, texting my beloved that he would know it when he saw it.
"What?" he responded. "Know what?"
"Oh," I said. "You can't miss it."
---
If you would like to reach me from where ever you might be, you can in two ways:
by hitting "reply" on the letter email you get each Sunday in your inbox

by leaving a comment below