TW: this post refers to persistent thoughts of death and dying
---
In the last month or so, there has been the first holiday without him—Canadian Thanksgiving, and then, impossibly, the two-month mark of his passing.
Both events were such stark, blunt brushes with the continuing flow of time. How could it be Thanksgiving? How could it be October 15? How is today November 1? Encountering these temporal markers is akin to when, as a child, in the typically warm tropical sea, I would dive beneath an incoming wave, feel the pulse and tug of the wave's force, and sometimes, unexpectedly, be struck by a bright, cold wash of water.
When I am beneath the wave, then as it is now, I am not thinking of onward; certainly, I have no expectation or certainty of a future. I am just holding my breath, waiting for the wave above me to exhaust itself on the shore. I don't have any conscious thought about rising up when I'm under. Perhaps this is part of why the shock of cool water is such a surprise.
Other atomized instances of time have struck me too, lately.
There has been a deluge of medical appointments: for my leg, for my lungs, for this brain that is so full of bad weather, so fogged over, that it has me show up at the doctor's office at 11:30 a.m., when the appointment is actually at 1:30p.m.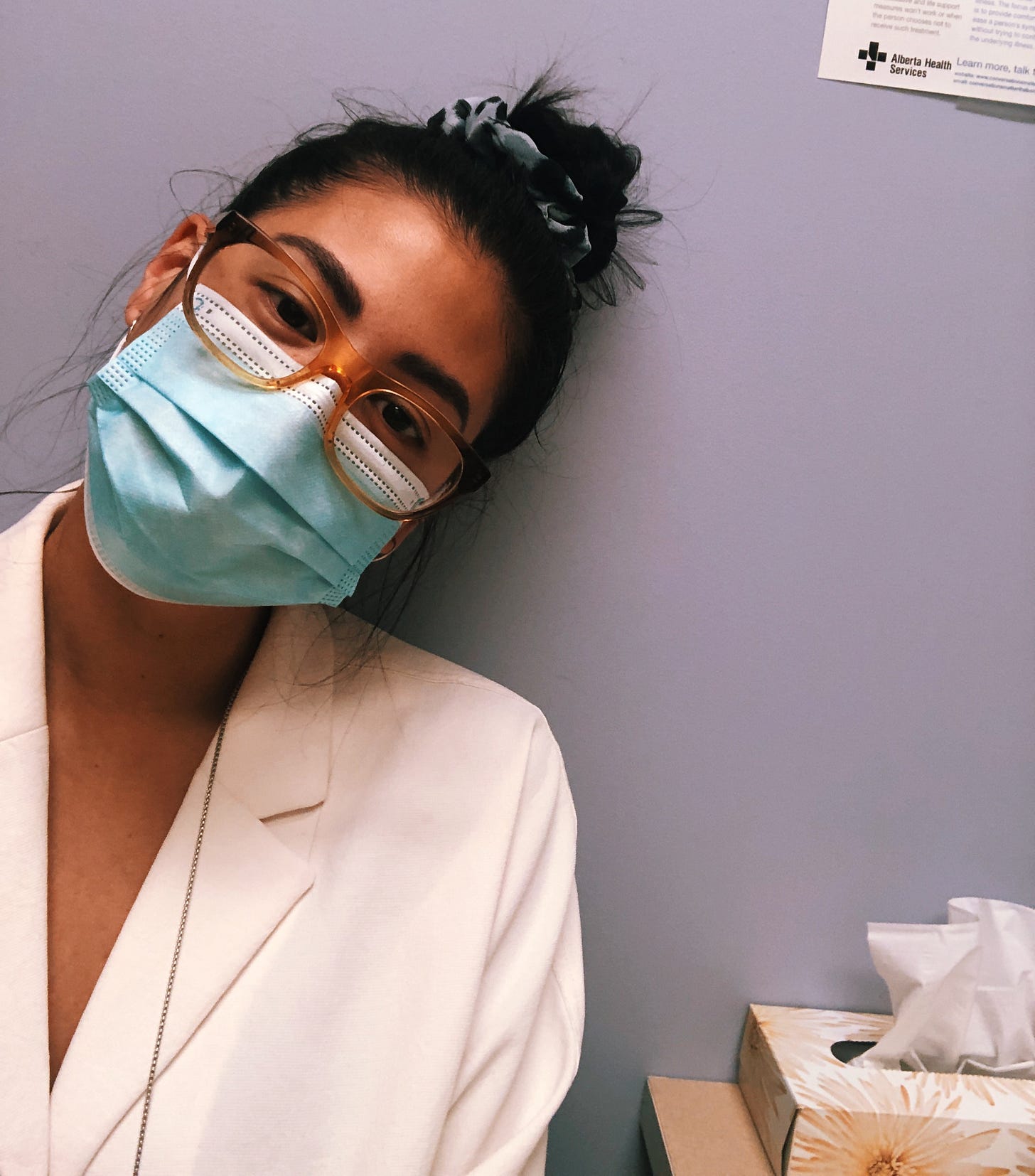 This being from the thrombosis clinic where I did manage to show up on time, but did not manage to remember to bring a complete list of my medications
There is also always the blur of things I mean to do (call Aeroplan and ask about how to get his points moved over to my account); and hope to do (walk on the treadmill for twenty minutes); and think I can do (shower, respond to text messages and emails) but somehow I do not do any of these things by the end of the day(s), which I note only when the light drops so much that it is markedly dark around me.
"It's been a week," I told myself yesterday, trying to orient myself. "In more ways than one."
I was in bed at the time, with a migraine, weighing which I hated more: being here without him, or winter, which has also suddenly arrived, white and flat and freezing.
Falling out of time also means I am awkwardly out of step with others. Their lives roll on in time's stream, filled with born and unborn children, new homes and mortgages, small, COVID weddings, take-out orders placed for two, or more.
It isn't like my alienation from those in my age group is a groundbreaking revelation, but that's part of early widowhood, of grief: the same reflections, the same questions, the same realities return to me, again and again, but each time they come, they arrive with the sharp emotional acuity of a freshly novel event.
"Do you have independent life insurance contracts?" I ask all of my friends.
No? (Neither did the beloved and I.)
"Get one, tomorrow," I tell them. "There are several payment options. If you can make it work, do."
When my friends do not take out their phones to make notes, I tell them how much it costs to die.
"Do you have a will?" (Neither did the beloved and I.)
No?
"Get one, tomorrow," I say.
When my friends do not ask me where to get a will I tell them: a lawyer, expensive, or a registry, more affordable — either will do. They nod along, but I know they do not hear what I am really trying to say.
The veil is torn. The calendar pages ripped. The hands on the clock are broken.
I am trying to warn them, but they are checking the time, making sure they won't be late, because somewhere out there in the amorphous elsewhere, someone awaits their return.
The policies and the will, I explain, are not about the dead. Part of the weight of grief is the required work of living—the attending apprehension of it. The policies and the will can help make some of this work less difficult.
Other things cannot be helped.
Two weeks ago, I was standing in a Lululemon store — my sister thought it would help to get me out of the house, which was a kind gesture and idea. I was watching my sister try on a T-shirt when I spotted a wall of backpacks displayed beside the shirts. My body felt as if it were suddenly cratering on the inside.
His backpack, I thought. The one he ordered from a special company, the one he asked for as a Christmas gift, the one he took to work every day, the one he brought to Japan and talked about loving so much that I finally asked if he was honeymooning with me, or the bag?
"He won't need his backpack, anymore," I said.
My sister looked up, confused, and then solemn.
"No," she said, her face softening. "He won't."
This is one of a myriad of other, small but brutal graduations.
It's such powerful cognitive and physical pain: never seeing or hearing the beloved again. It's violent. The sheared off gone-ness of his being. How can someone so alive, so complex, so joyful, just be gone? I won't look directly at it, this black sea, but sometimes, this black sea splashes things I hadn't expected.
Like backpacks.
You can't prepare for that.
The knowing, the not knowing, the part-understanding, the part-doubting, the assenting while dissenting, conceding while believing, it might be shock or denial, but it's also all grief. I've read much about the waves of emotion—those come too—but there does not seem to be as much on this condition of constant cognitive dissonance, the polarizing binarism of containing so many blatantly contradictory impossibles.
He's dead. He's not. It's August. It's not. I'm here. I'm not. We are. We aren't.

And on.
Standing at the till, waiting for my sister to pay for the Lululemon sweater, I looked to the side and saw a wall of mantras, offered up by some unseen Lululemon marketing team: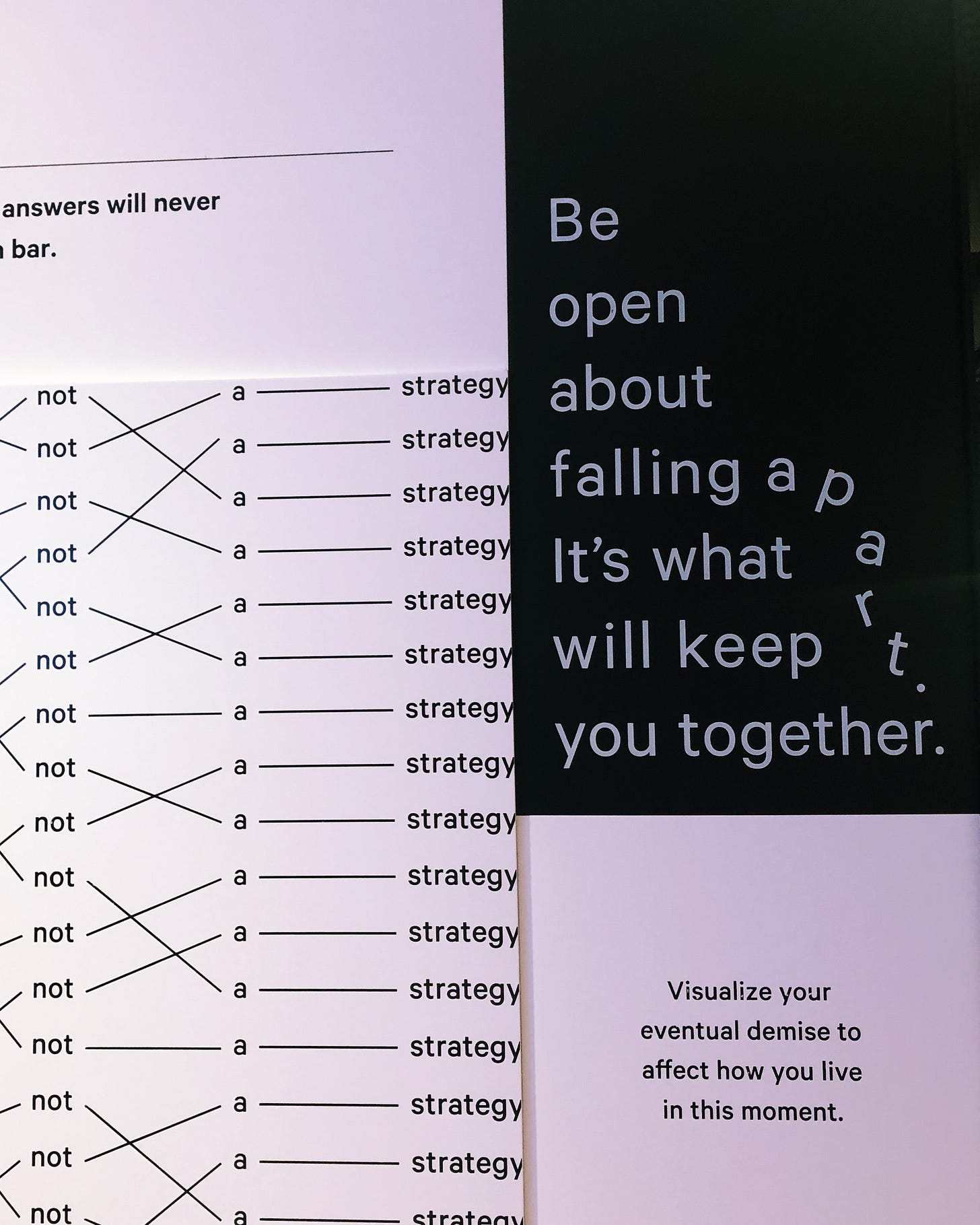 My attention was largely focused on the black and white squares on the right hand side
I looked at the guy scanning the price tag of my sister's sweater. I asked him if he had read what was on the wall.
I told him: My husband died two months ago. I almost died, shortly after. I visualize my demise all the time.
He stared briefly at me from behind oversized wire-frame glasses. His irises kept sliding to the corners of his eyeballs as he glanced at the mantras he clearly had never paid any attention to before.
I asked him: does Lululemon really think being open about falling apart, and visualizing my demise will make me want to buy more leggings?
He croaked out the total cost of the sweater, and my sister passed over her credit card.
"I've never noticed those words before," he said.
As he bagged up my sister's sweater, he avoided looking at me.
"Feel better soon," he said, as we turned to leave.
Around us, people rushed about, confident in their bodies, confident in their ability to carry their purchases out to their cars and drive those cars home to the people in their lives, who they were sure would be alive, indeed so sure, they were not even thinking about them being dead.
Or most of them were sure, I assumed, anyway. I can't know with absolute certainty, of course.
"I horrified him," I said to my sister.
"That wall is horrifying," she said, which was generous.
I'm out of step, you see.
On another day, back in September (I had to check my phone to be sure of this), a friend bought a skeleton as a Halloween decoration. I suggested naming it after my beloved, which caused the friend to almost cry.
"Too dark," he said. "Too soon."
I apologized. I didn't mean to.
I use black humor as a coping mechanism, I explained, I use it to try and keep myself together because being in the world without him makes me feel his absence constantly. I am never not thinking about it. Sometimes, the knowledge is so much, to ease the pressure, I make dark jokes about it.
I named the skeleton Skully, instead.
Another day, on FaceTime (this call three weeks ago according to digital record), when asked how it was going, I said that I wanted to die, that I think about it often, but I said it too bluntly, without preface, and the friend on the screen wiped away tears.
I apologized. I didn't mean to.
The magnitude of my sadness has warped my ability to exist in this world, which no longer feels like mine—certainly its time is no longer mine. When I walk across the road to the mail box, or drive across the bridge to my sister's house, all manner of deaths run through me: the apparition of a bus blows right over my body, the ghost of my car spins right through a concrete wall.
I always wonder if today is the day I stop living, one way or another. I wonder if there will ever be a way, or a want, to re-attach to the lived world?
I don't know.
I do know I don't want to be pitiful or maudlin, to be too heavy to bear, but perhaps my frankness makes me all three.
In the meantime, I order books that stack up around me and I wonder if I will live long enough to read them, if the lure of their covers is enough to keep me here.
I accept an invitation to a small, socially distanced, backyard fire in celebration of a very close friend's birthday. I drive to the address given to me and I walk along the sidewalk until I see my friend's car, parked outside the house. I can hear the faint sounds of voices behind the house's white, stucco exterior. I lean against the hood of my friend's car and I call him on the phone.
"I can't do this," I say. "I'm sorry."
He comes out from behind the house, where there is the backyard, and the fire, and the ring of people with their people, which I had not considered until I had heard their voices. He talks to me a bit. He is wearing a flannel shirt the colours of fall. I don't know how to accurately explain my chronic discord, the push-me-pull-me of my sadness.
I want to be invited, but I can't attend.
My friend walks me back to my car, and I drive home. Several times, I see grey Mazda 3s on the road beside me, the exact color and type of car my beloved drove, and each time, I look for him. I can't quite see who is in any of these Mazada 3s, though, because I am crying.
I meet with another widow, who I have been emailing with for a few weeks. We were connected by someone who knew me, barely, and her, quite well.
I did not know any widows before my husband died.
We sit outside on her patio, and I cry in front of her, though I don't mean to, and we talk about our lost, our loneliness, our pain.
I ask her what she thinks it was like? It seems, at least in my own experience, that I somewhat unconsciously presumed my beloved's going was easy. I don't mean his physical passing. This, I have been assured by the coroner, was almost instantaneous.
I mean his spiritual passing, if that is something to be considered, which for me, it is. I tell her I think that my beloved would have resisted going. He would choose the middle seat on every airplane just to guarantee we would sit beside each other.
"Masochist," I would say to him.
"Another big word I don't know," he would respond, grinning, while I hovered over his shoulder, making sure he clicked the aisle seat for me.
I tell the widow that I don't think my husband would have gone quietly.
"Not without me," I say.
I ask her if she thinks our beloveds, if there is an After and they are in it, are as pierced as we are by the burden and habit of care that cannot seem to give up its dedicated task.
I lean back in the chair after I ask. I feel cold. There are no answers, of course. There is no way to know. She has different questions, too. Questions to which I also do not have any answers.
"Does it help?" my therapist asks me, "Talking with another widow?"
"Nothing helps," I tell my therapist.
Still, as I drive back home after meeting with the other widow, I think about our shared isolation. She has returned to a space that is empty for her. The person she is used to coming home to is no longer there. Or anywhere.
It is the same for me.
This does not make the pain better, but it is something.
It is enough that when I stop at a red light, I look ahead and see there is just enough falling sun left in the sky to streak it pink and gold. I think, for a microsecond, that there could be something beyond the dark sea, something that, albeit a long, long way away, is solid but light—harmonic even.
The traffic light glows green. I depress the gas pedal and my vehicle moves forward with the rest of the traffic.
But then again, I think, this might be it.
---
I have been thinking about providing a recording of me reading my letters aloud, for those that might prefer to listen instead of read. If this is something you would like, or even if you just want to reach out and say hello, you can in two ways:
by hitting "reply" on the letter email you get each Sunday in your inbox

by leaving a comment below